"Education is not the filling of a pail, but the lighting of a fire" said the famous Irish poet W.B. Yeats. It is an interesting thought and makes one deliberate on much that is left unsaid. What he probably meant was that education should not be about trickling drops of knowledge that students collect by merely studying various subjects in school. It should be more like gathering kindling, letting students play with matches, encouraging them to take risks and hoping that for some the materials burst into flames and become lifelong interests.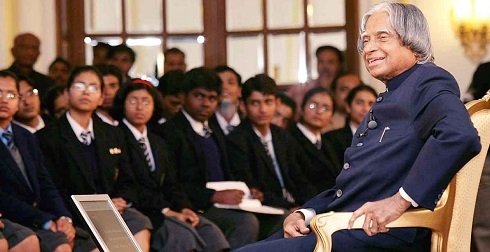 You ask a kid what he wants to become upon growing and pat comes the answer – astronaut, doctor, teacher, fireman, scientist, pilot and so on. How many of the kids actually become what they dream to be? And what makes them loose their interest in something that they held so close to the heart? The means? The mediums? Or most importantly, the methods?
The capabilities of children should be identified and encouraged so as to have a new breed of innovative thinkers, believed former president APJ Abdul Kalam. He often said that the Children have hard-wired ability to be creative, imaginative and innovative that often diminishes along the way. He believed in creativity in education and learning. He believed in innovation in teaching methods. He believed that to be different, you need to think differently. "Creativity is a process through which, we can continuously improve ideas and find unique solutions by making gradual alterations and refinements to our works. The important aspect of creativity is seeing the same thing as everybody else, but thinking of something different" – He said.
As the nation celebrates the birth anniversay of this illustrious legend Bharat Ratna Shri. Avul Pakir Jainulabdeen Abdul Kalam (A.P.J Abdul Kalam), it becomes inducing to know more of his thoughts specially regarding science and youth together, the field that he was so much passionate about.
Coming from a modest family of a boatman, Kalam was the youngest amongst the siblings. He often accompanied his father on his ferries. When his father built boats, young Abdul would watch how long pieces of wood were shaped into a boat. Who knew, that one day this boy would make rockets and missiles. His elder cousin who had returned from the city often talked about science and inventions, literature and medicine, raking Abdul's interest in various innovative fields.
Creativity leads to thinking, Thinking provides knowledge, and Knowledge makes you great. Dr. Kalam has cited examples of this creativity in many of his talks. Examples that he himself witnessed in his journey. He was a good student and always curious to learn more about how things happened. An incident of childhood left deep impact on his curious mind. His science teacher Siva Subramania Iyer, took the students to the seashore and asked them to observe the birds in flight. Then the teacher gave the children a theoretical explanation, which coupled with the live practical example, cast a deep influence on young Kalam's mind. That very day the boy realized that his life's calling had something to do with flight. Though he could not fulfil his dream of becoming a flight pilot, he flew much higher in the world with his "Wings of Fire". His teacher had ignited his curiosity in science and there was no looking back.
Teachers have to love teaching and have the capacity to nurture creative minds and imagining minds. Similarly, parents need to think of a child's capability to be reflected beyond just marks and objectively defined criteria. The children need an environment that is conducive to explore, to experiment and expedite to excellence. That environment is exactly what Vijnana Bharati's Vidyarthi Vigyan Manthan (VVM) 2021-22 is all about. This innovative program is the medium, it provides the right means, and it follows unique methods to nourish inquisitive nature of children.
Vijnana Bharati (VIBHA) is an organization is based at Delhi, India. Vijnana Bharati (VIBHA) is a national movement for the propagation and popularization of Science & Technology among students and masses. VIBHA promotes scientific contributions made by India in ancient times as well as now. It is the largest scientific organization having the longest chain of state units and networking institutions across the country.
It has been organizing a nationwide science talent search examination – Vidyarthi Vigyan Manthan (VVM) each year in collaboration with Vigyan Prasar (Department of Science and Technology) and NCERT. This talent search examination provides an innovative platform to school students to develop a keen sense of enquiry and scientific temperament through learnings from the designated syllabus and interactions and communications with eminent personalities of the scientific community further. Keeping in mind the agile nature of students, the programs are designed in such a way that it grabs their prompt attention and various workshops, camps, trainings and internship relevant to science activities have been included. (Register For VVM 2021-22 before 31st October 2021 on www.vvm.org.in)
By bringing world science insights and contribution of Indian Scientists to the world of science together, VVM aims at crafting a child as an innovator. By bringing the exposure of different perspectives forth, it aims at not only sharpening a child's grey cells, but also the attitude and hunger to know it all. By bringing educators, experts and enthusiasts on the same platform it aims to bridge the gap between those who know science, those who teach science, and those who communicate science and those who want to learn science.
Dr. Kalam connected science to common people, to children like no one did. VVM believes in Dr. Kalam's advocacy of creative education and hence focuses on out of the box thinking, opportunities of experts' interaction, and innovation in its way by encouraging curiosity, critical thinking, deep understanding, and creative brainstorming along with the curriculum. Science and Youth are the two pillars for development of the nation and VVM aims in intertwining them to build a rock solid foundation.
VVM 2021-22 is coming up with a unique opportunity for registered participants this year.
The Mega Nation-Wide Experiment is a novel endeavour of VVM. The objectives this mega experiment are inculcating observational skills, a scientific mindset, and analytical thinking among our students.