Get ready, astronomers! Tomorrow is going to be a great day for you, as for the first time in 580 years, the longest partial lunar eclipse, known as the 'beaver blood micro moon' will be visible from some parts of the world after the moonrise.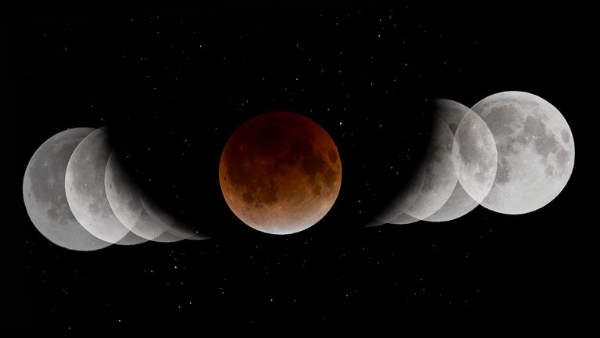 Lunar eclipses always happen on a full moon day. The full moon on November 19 is described as a beaver moon or frost moon and the full moon day in November is known as Karthik Purnima in India, which is a special event for the Hindus.
For a partial lunar eclipse to take place, the condition required is a full moon aligned in a straight line with the Sun and Earth. A partial Lunar Eclipse would not take place on every full Moon. This is because a lunar body is inclined on its orbital plane at an angle of five degrees to the Earth's orbital plane around the Sun.
The lunar eclipse will start at 12:48 IST when the Sun, Earth, and Moon will come into alignment, forming a partial lunar eclipse, and will end at 16:17 IST. This eclipse will peak at around 14:34 IST. At that time the earth's shadow will cover about 97% of the moon
The partial eclipse will last 3 hours, 28 minutes, and 24 seconds, making it the longest eclipse in nearly 600 years in the twenty-first century. The last such long partial eclipse occurred on February 18, 1440, and the next one is expected on February 8, 2669.
The Micro Beaver Moon is named for the fact that it happens just before the beaver-trapping season and when the moon is closest to Earth. According to NASA, it's termed a blood moon because of the reddish tint it takes on during the eclipse. The red color is caused by sunlight passing through Earth's atmosphere as the moon passes into its shadow for several hours.
The eclipse will be visible from western Africa, western Europe, North America, South America, Asia, Australia, the Atlantic Ocean, and the Pacific Ocean, according to the India Meteorological Department.
In India, people in northeast India will be able to view the final phases of the partial lunar eclipse with naked eyes . A small segment of Assam and Arunachal Pradesh can watch the eclipse and from Uttar Pradesh, Bihar and Jharkhand, only the final phase of the eclipse can be seen. This eclipse will not be visible from other parts of India.
So if you're an avid astrophotographer, this means there'll be plenty of time to set up your gear and capture a blood-red slice of the celestial.
.
.