Beijing, July 05: In the major development, two Chinese astronauts have successfully performed the first spacewalk outside China's new orbital station to work on setting up a 15-meter (50-foot) long robotic arm.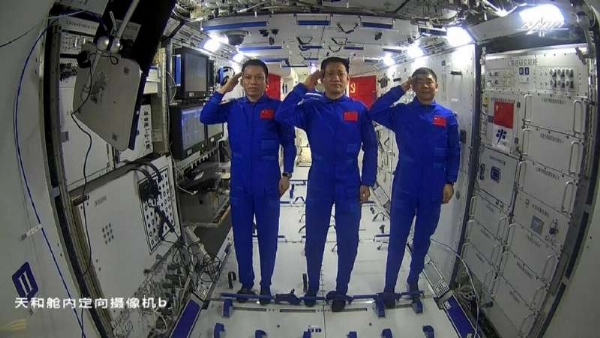 As per the information given by the China National Space Administration, astronauts Liu Boming and Tang Hongbo floated out of the space station core module Tianhe on Sunday morning. The third crew member, Commander Nie Haisheng, stayed inside to support the pair's operations, it added.
As a part of their spacewalk, Liu and Tang completed the installation of the robotic arm which will be used to transfer future modules to the station. Astronauts installed foot stops on the robotic arm and carried out other assembly work. Nearly they spent seven hours outside the under-construction space station before returning safely.
It was only the second spacewalk that Chinese astronauts have ever undertaken. Last time Chinese astronauts on Shenzhou-7 had carried out a spacewalk in 2008, that lasted for 20 minutes.
The construction of Tiangong is a major step in China's ambitious space programme. This space station is placed in low Earth orbit at the distance between 340 and 450 km above the surface. Once completed, it will be about one-fifth of the mass of the International Space Station and equal to the size of decommissioned Russian Mir space station.
Earlier the country has also landed a rover on Mars and sent probes to the moon. Their mission comes as the ruling Communist Party celebrates the 100th anniversary of its founding.
.
.