Florida, September 11 : Days after collecting its first sample named "Montdenier" on September 6, NASA`s Perseverance Mars rover successfully collected has now collected a second, "Montagnac," from the same rock on September 8.
NASA shared the information via social media. As per NASA, both samples, slightly wider than a pencil in diameter and about six centimeters long, are now stored in sealed tubes in the rover's interior.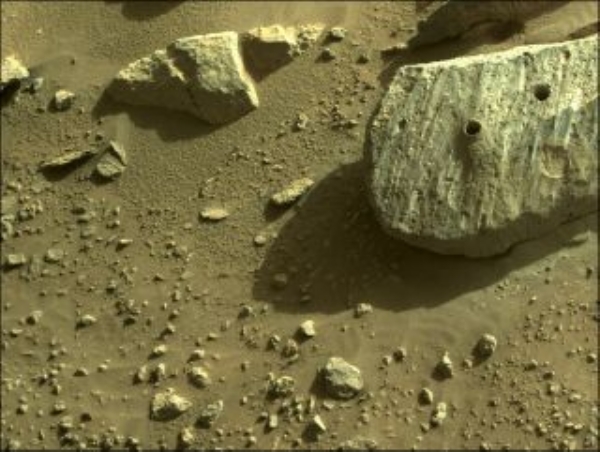 Analysis of the rocks from which the Montdenier and Montagnac samples were taken and from the rover's previous sampling attempt may help the science team piece together the timeline of the area's past, which was marked by volcanic activity and periods of persistent water.
"It looks like our first rocks reveal a potentially habitable sustained environment," said Ken Farley of Caltech, project scientist for the mission, which is led by NASA's Jet Propulsion Laboratory (JPL) in Southern California."It's a big deal that the water was there a long time.
NASA in its released said that the rock from which the samples were collected is basaltic in composition and may be the product of lava flows, the Nasa report said. Volcanic rocks contain crystalline minerals that are helpful in radiometric dating. The volcanic origin of the rock could help scientists accurately date when it formed.
Additionally, salts have been found within the rocks. These salts may have formed when groundwater flowed through and altered the original minerals in the rock or when liquid water evaporated and left the salts behind. The salt minerals in the samples may also have trapped tiny bubbles of ancient Martian water.
"If present, they could serve as microscopic time capsules, offering clues about the ancient climate and habitability of Mars. Salt minerals are also well-known on Earth for their ability to preserve signs of ancient life," read the release.
Nasa is hoping to return the samples to Earth for an in-depth lab analysis in a joint mission with the European Space Agency sometime in the 2030s.
.
.