WHY SCIENCE?
Science is everywhere and influences all aspects of everyday life – directly or indirectly. From the food we eat to the microwave that heats our coffee. From the elevators that help you climb up and down to the GPS that we use in our cars and find our way around anywhere we want. From the laptops and smart phones that have become your buddies especially in the lockdowns to playing XBOX and PSPs, there are several opportunities to learn, explore and understand the relationship between science and critical-thinking skills.
WHAT IS SCIENCE & WHY SCIENCE FOR CHILDREN?
The goal of science is to understand the natural world through a process known as scientific inquiry. Science is curiosity in thoughtful action about the world and how it behaves. It is all about watching, listening, observing, and recording things about the world around us. By doing so, one can form their own opinions but when one tries and tests their predictions in the real world, they establish a hypothesis. A hypothesis when explains a fact with evidence, it becomes a theory. That's the sign of a scientist or science thinker. Don't we all want our kids, our generation next to become innovators and successful Creators? Giving them formal education is imperative, but special and subject centric education makes learning superlative. A good education is the greatest gift you can give yourself or anyone else. Why not give that gift to our kids.
Vijnana Bharati (VIBHA) is an organization is based at Delhi, India. Vijnana Bharati (VIBHA) is a national movement for the propagation and popularization of Science & Technology among students and masses. VIBHA promotes scientific contributions made by India in ancient times as well as now. It is the largest scientific organization having the longest chain of state units and networking institutions across the country
It has been organizing a nationwide science talent search examination – Vidyarthi Vigyan Manthan (VVM) each year in collaboration with Vigyan Prasar (Department of Science and Technology) and NCERT. This talent search examination provides an innovative platform to school students to develop a keen sense of enquiry and scientific temperament through learnings from the designated syllabus and interactions and communications with eminent personalities of the scientific community further. Keeping in mind the agile nature of students, the programs are designed in such a way that it grabs their prompt attention and various workshops, camps, trainings and internship relevant to science activities have been included.
Beginning when children are very young, science helps shape their development. As they learn to ask questions, make predictions, observe, test, and then communicate their findings, they are developing critical science skills. The content of science for young children is not primarily a science of information. While facts are important, children need to build an understanding of basic concepts and how they connect and apply the same to the world in which they live. And the thinking processes and skills of science are also important.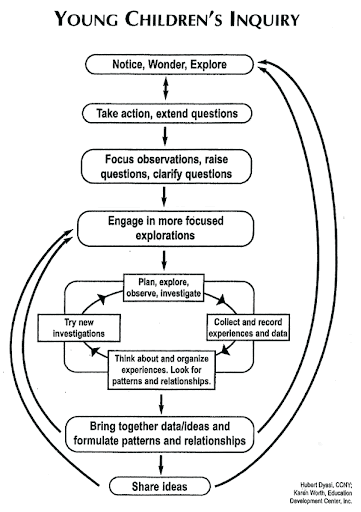 Children are primed for learning, and what they learn while they're young can impact their interests later in life. However they need guidance and structure to turn their natural curiosity and activity into something more scientific. They need to practice science—to engage in rich scientific inquiry.
VVM
has developed its curriculum for focusing equally on science inquiry, the nature of science, and content—basic concepts and the topics through which they are explored. In the process of teaching and learning, these are inseparable. While doing so, it has also encompassed the contribution of Indian Scientists to the world of science and to Indian Freedom movement as well.
WHY SCIENTIFIC ENQUIRY
Scientific inquiry provides the opportunity for children to develop a range of skills, either explicitly or implicitly. Children can a) Explore objects, materials, and events b) Raise questions c) Make careful observations d) Engage in simple investigations e) Describe things and materials (including shape, size, number), compare, sort, classify, and order f)Record observations using words, pictures, charts, and graphs g) Use a variety of simple tools to extend observations h) Identify patterns and relationships i) develop tentative explanations and ideas j) Work collaboratively with others k) Share and discuss ideas and listen to new perspectives.
An academic curriculum may not take of these things but VVM wishes to take care of these aspects and thus provides an opportunity and platform at various levels for the students to attend workshops and camps focusing on these activities. VVM's state and national level camps are designed around the same.
HOW CAN PARENTS SUPPORT CHILDREN's SCIENCE LEARNING?
A child may be hesitant at times to ask a question with the fear of being ridiculed or then just shrugged off. Parents need to be aware of the importance of curiosity and value their child's questions. Encourage them to share their perspectives and observations over the topic in question. Parents may not always be knowing the answers but they can enthusiastically offer to explore and discover the answers together. Science is a process of learning by trial and error. Give your child the time and space to explore and discover on their own. Explore with the children but wait patiently till they arrive upon a conclusion and then help them with your perspective. Together you learn and together you make mistakes too. A mistake can lead to all kinds of possibilities and it provides opportunities for you and your child to refine their ideas, understanding, and hypotheses. Encourage children to record their learnings in a journal or on a computer in form of reports, photographs and videos. Device games around scientific learning and make education more entertaining.
Science drives much of the world's innovation. It will continue to surprise us with what it discovers and creates. New tools enable new structures of knowledge and new ways of discovery. The achievement of science is to know new things; the evolution of science is to know them in new ways. What evolves is less the body of what we know and more the nature of our knowing.
Matching steps with the changing times, VVM is an online examination with the help of digital devices, making students curious and creative sitting in the comfort of their homes. It is an open book exam that desires to push forth the students towards science and towards a bright future. Let us encourage our children to join this movement and explore a world of unlimited possibilities.
VVM 2021-22 is coming up with a unique opportunity for registered participants this year.
The Mega Nation-Wide Experiment is a novel endeavour of VVM. The objectives this mega experiment are inculcating observational skills, a scientific mindset, and analytical thinking among our students.