New Delhi, Jan 26: On the eve of India's Republic Day, the Central government announced the names of Padma awardees for this year and conferred its third-highest civilian award to the Indian-origin Google CEO Sundar Pichai, Microsoft CEO Satya Nadella. The award also went to Tata Sons chairman Natarajan Chandrasekaran and the heads of India's two biggest Covid-19 vaccine makers - Cyrus Poonawalla of Serum Institute of India (SII) and Krishna Ella and Suchitra Ella of Bharat Biotech.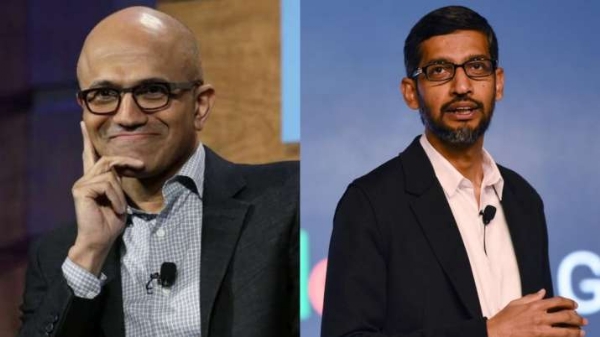 Padma Bhushan is part of India's Padma Awards which are divided into three categories: Padma Vibhushan, Padma Bhushan, and Padma Shri.
Padma Vibhushan is the highest accolade among the three awards. The Padma awards are conferred on individuals with exceptional service in fields such as art, public affairs, science and engineering, social work, medicine, trade and industry, literature and education, sports, and civil service.
Microsoft and Alphabet are among the top five companies by market capitalisation in the world. Satya Nadella is Chairman and Chief Executive Officer of Microsoft. He was named CEO in February 2014. Earlier, he had held leadership roles in both enterprise and consumer businesses across the company.
Nadella earned a bachelor's degree in electrical engineering from Mangalore University, a master's degree in computer science from the University of Wisconsin - Milwaukee, and a master's degree in business administration from the University of Chicago. He hails from Hyderabad, India, and currently lives in Bellevue, Washington.
Born on June 10, 1972, in Madras (now Chennai), Pichai Sundararajan better known as Sundar Pichai earned his degree from IIT Kharagpur in metallurgical engineering. Moving to the US, he earned an MS from Stanford University in materials science and engineering and further earned an MBA from the Wharton School of the University of Pennsylvania.
Pichai began his career as a materials engineer. After a short stint at the management consulting firm McKinsey & Co, he joined Google in 2004, and the rest is history. Pichai was picked up as the next CEO of Google on August 10, 2015, after previously being appointed Product Chief by CEO Larry Page. He was appointed to the Alphabet Board of Directors in 2017.
Serum Institute MD Cyrus Poonawalla will also be conferred with Padma Bhushan. The serum is the manufacturer of Covishield, which was among the first two vaccines approved in India for vaccination drive.
Padma Awards are one of the highest civilian awards of the country. They are conferred in three categories — Padma Vibhushan, Padma Bhushan and Padma Shri.
.
.