Harley-Davidson for quite a while now has been a brand synonymous with only old school heavy charismatic cruisers with enormous appeal. They've never really been known to be great performers but more of a pure motorcycling experience with outright speed taking a slight backseat. Till a short while back Harley didn't even reveal the exact horsepower figures of their bikes, they gave you the torque figures and the keys for a test ride and your estimation about the power figure itself was really as close as you could get to that. Then they started diversifying quite a bit both with body styles, the nature of their bikes and all new engines with focused targets of what they wanted to achieve. Firstly in February 2021 Harley launched a proper flagship level adventure tourer; The Pan America 1250 which housed the all new Revolution Max engine which was designed ground up with performance in mind. Then later on towards the end of the year they showcased what is arguably one of the most jaw-droppingly beautiful and muscular bikes currently on sale: The Sportster S.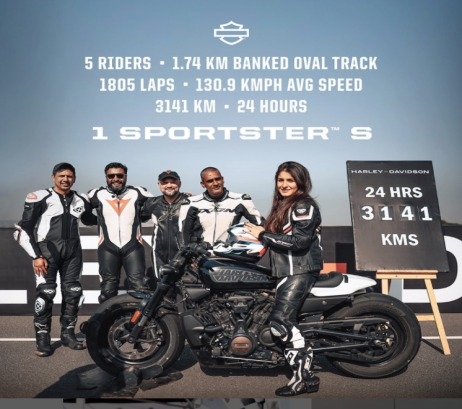 The Sportster S is a brutish yet modern interpretation of a classic Harley bobber form factor and every design element present on the bike just works beautifully, whether it's the chunky high profile tyres, the classic peanut shaped fuel tank or the enormous raised twin exhaust units, the Sportster S demands attention wherever it goes. This bike too has been designed with performance as one of the top priorities and it houses Harley's 1252CC Revolution Max 1250T V-Twin engine unit which churns out 122.3PS (yep they disclose the power output now) and 125NM. The bike starts at 15.5 lakh rupees ex-showroom and carries an enormous amount of desirability along with its cathedral of power, presence and technology on offer.
Harley however decided to push the credibility of this bike a few steps further by setting the stage for an endurance record and carefully handpicking a team of extremely skilled motorcyclists to make this tremendous feat possible. The endurance run took place in Jaipur, Rajasthan at Hero's high speed test track at their Global Centre for Innovation and Technology. The track in question is a 1.74km long oval shaped banked circuit. A team of 5 riders were selected which consisted of national racers Anushriya Gulati and Vijay Singh, Shubhabrata Marmar who is the editor of India's largest automotive YouTube channel PowerDrift, Malo Le Masson who is Hero MotoCorp's head of strategy and global product planning as well as Vijay Thomas, the lead of brand marketing and customer experience of the Harley-Davidson business unit. David Lopez Cordoba - Head of Chassis Functional Development & National Racing Program, and Alex Busquets – Head of Vehicle Validation provided continuous and helpful supervision to the whole team. Both David and Alex have years of experience in endurance racing from all over the world. PowerDrift's film crew were also at hand to film the entire event, in fact by the time this article has been published you'll be able to go on YouTube and watch the full documentary of this endurance record on their channel.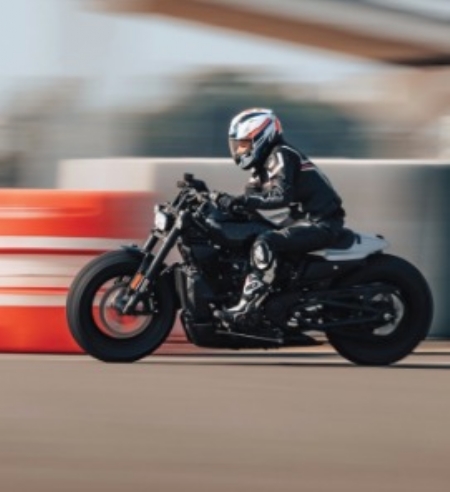 The endurance record attempt begun at 3PM on the 5th of February 2022. Each of the five selected riders completed a total of six shifts each all of which covered an average distance of 100km each of which required the Sportster S to drain its 11.8 litre fuel tank every time. A full track and assistance team was at hand to refuel the bike, change the tyres of the bike and fit fresh rubber every 1000km and make sure everything in general progressed smoothly. In the 24 hours that the endurance challenge took place, 31 pit spots occurred, the average speed of the Harley was 130.9kmph and the total distance covered was 3141km, which is very nearly the road distance from Kashmir to Kanyakumari. This in itself is an astounding achievement from the riders' side. To ride a bike at that speed at that intensity for that duration with immaculate consistency is something absolutely outstanding and something not a lot of people would have been able to execute so in all fairness, hats off to the five riders and the whole team who organised and carried out the event. What makes this even sweeter from the bike's side is that the Sportster S had no issues at all whatsoever of any kind during the entirety of this high performance endurance run. This really speaks volumes about how far Harley's build quality and fit and finish has come. The progress they're making with the all new bikes is terrific and the increasing diversity of the lineup makes bike enthusiasts like me tremendously excited about Harley's future.