Noida, January 14: Tata Motors unveiled its new range of trucks and buses in the alternative fuel segments as India's top commercial vehicle maker has committed to achieving net-zero emissions by 2045 for the commercial vehicle business.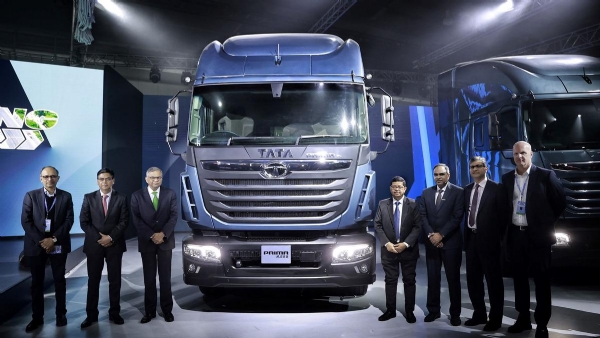 The company outlined its 'Moving India forward' vision which encompasses the idea of moving India's commercial vehicle sector towards green and clean mobility to decarbonise and achieve the net zero target which the company envisions achieving by 2045.
At the event Tata Motors showcased14 vehicles and concepts including, 4 natural gas vehicles, 5 BEVs, 2 Hydrogen fuel cell vehicles, 1 Hydrogen internal combustion engine and 2 bi fuel vehicles.
The commercial vehicles showcased by Tata Motors at the event are -Yodha and Intra pick-ups that are powered by CNG and V20 bifuel and have a claimed range of 600 kms, Prima G.35K tipper powered by LNG, which is India's first heavy duty LNG tipper. Ace EV, Starbus EV and Magic EV.
The company has also tapped into unlocking the potential of hydrogen for energy. At the event the company introduced its hydrogen fuel cell and internal combustion technology and vehicles. Displaying Tata Motors hydrogen prowess at the event were Starbus hydrogen fuel cell electric bus, PRIMA E.55S first hydrogen fuel cell concept vehicles which is a long range cargo truck, PRIMA H.55S which is the company's first hydrogen internal combustion engine powered concept truck.
Also Read | Tata Group to establish chip production in India: Tata Sons Chairman N. Chandrasekaran

The company believes in the potential of hydrogen to be the fuel of the future and they have even received an order for its hydrogen fuel cell laden Starbus from Indian Oil which will be delivered in the next financial year. The company stated that hydrogen is a promising solution to achieving a net zero target and that the transition to clean mobility in India will happen much faster than we are imagining.
Commenting on the occasion Girish Wagh, Executive Director, Tata Motors, said, "With our goal to achieve net-zero emissions by 2045, we are transforming mobility by re-imagining our entire product portfolio, value chain and operations. Our commitment and proactive actions towards zero-emission technologies will enable customers to progressively and seamlessly transition to cleaner and commercially viable mobility solutions, both over the short and long term".