New Delhi, January 18: Chennai-based Sundram Fasteners Limited (SFL), a leading global supplier to OEMs and automakers, has announced that it has won the largest EV contract in its 60-year history. The company has been awarded a $250-million contract by a leading global automobile manufacturer for the supply of sub-assemblies for its electric vehicle (EV) platform.
To support the new orders under the six-year-long purchase package, the company plans to invest Rs 200 crore. This package will involve the supply of shaft sub-assemblies and drive gear sub-assemblies which will be shipped from the company's powertrain divisions located at Mahindra World City in Chengalpattu, Tamil Nadu, and Sri City in Tirupati district, Andhra Pradesh.
The parts will be serviced from the company's warehouse in North America.
In a statement on Wednesday (18 January), the company said that the deal is one of the largest won by a supplier in India for this range of products for an EV platform. The company has estimated an annual sales peak of $52 million in 2026 with a supply of 1.5 million drive unit sub-assemblies per annum.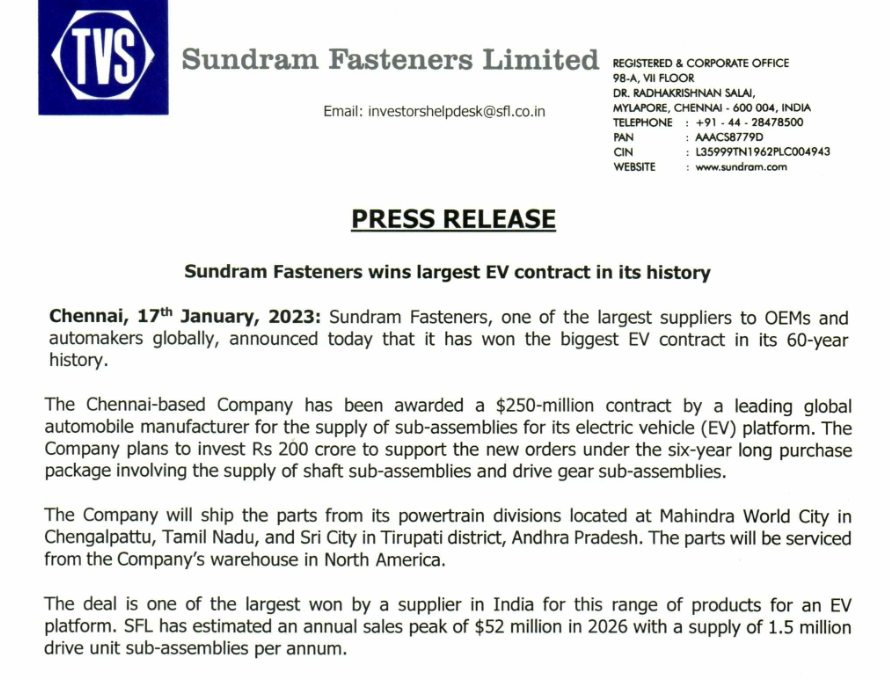 Commenting on the deal, Arathi Krishna, Managing Director, Sundram Fasteners Limited said, "The $250-million supply contract, one of the largest in India, is a further testimony to our commitment to manufacture and supply high-quality industry-leading products such as sub-assemblies, which are used widely in various segments of the EV sector".
The sub-assemblies will be used in the EV models like MHEV/PHEV/BEV, covering various segments including mid-size trucks, SUVs and sedans. The launch of the new vehicles is planned from the North America platform in 2024.
SFL will use special processes such as axial forming technology in the manufacturing of the products, which can withstand extreme temperatures and rigorous durability tests, meets high torque requirements and operate in a silent environment, the company said.