Pune, January 21: Speaking about the concept behind the recently inaugurated "Centre of Advanced Indian Studies" at Ajeenkya DY Patil University (ADYPU), Ajeenkya said that the research centre's main goal is to bring all Indian knowledge systems, including ancient Indian science, to the forefront of the world.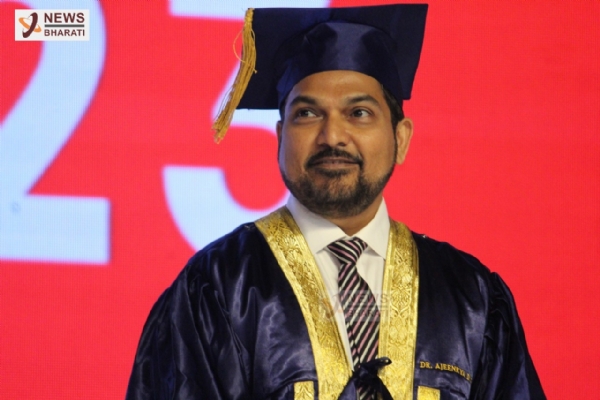 Ajeenkya shares his thoughts while answering the question asked by the News Bharati reporter during the 7th convocation ceremony, which was held at the university campus in Pune, Maharashtra, on Friday, January 20.
Three dignitaries from various sectors, including DRDO director Dr Pradeep Kurulkar, were bestowed with the Doctor of Letters (D.Litt.) degree during the convocation ceremony. As per the Ajeenkya, these dignitaries are the engine of the country, they inspire the new generation, and it is very important to appreciate the efforts and work that they have done in their sectors.
Meanwhile, in response to a question about the research centre, Ajeenkya stated that the main goal is to introduce the rest of the world to ancient Indian texts, ancient Indian sciences, quantum physics theory, space, and other subjects that were parameters of the old teachings.
He said, "The main focus is to introduce the ancient Indian texts, the ancient Indian sciences, the theory of quantum physics, space, and other subjects, which have just been put in the background, and I think if they are validated, researched, and portrayed to the world, then, we can bring this ' Indian ancient knowledge" to the forefront. Currently, only a specific sector of society is aware of this, but we want to make it mainstream. So we are doing heavy research in these areas"
It should be noted that the university inaugurated the 'Centre of Advanced Indian Studies' to put a deep and substantial process in motion in the first week on January. It aims to derive from the rich Indian knowledge systems to respond to one's current needs while at the same time absorbing intellectual traditions. As per the reports, the centre would be an academic centre involving multi-disciplinary research and teaching of Indian knowledge systems ranging from astronomy and mathematics to metaphysics, grammar, logic, literature, and linguistics.