New Delhi, June 15: A wooden satellite in space? Yes, you read it right! European Space Agency (ESA) is going to launch the world's first wooden satellite called WISA Woodsat in Earth's orbit by the end of 2021. The wooden nanosatellite is named WISA Woodsat.
ESA is launching the WiSA Woodsat to test the applicability of wooden materials such as plywood in spacecraft structures. The wooden satellite will be launched to space by end of 2021 with a Rocket Lab Electron rocket. It will be launched from the Mahia Peninsula launch complex in New Zealand.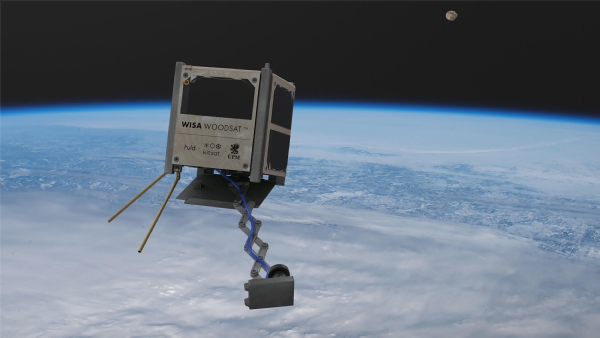 The mission was initiated by Jari Makinen, a Finnish writer, and broadcaster. Talking about the mission he said "I've always enjoyed making model planes, involving a lot of wooden parts. Having worked in the space education field, this got me wondering; why don't we fly any wooden materials in space?."
It should be noted that the mission will expose wooden materials to extreme space conditions like heat, cold, vacuum, and radiation.
The satellite, WISA Woodsat, is a cube-shaped nanosatellite made up of birch plywood. The cube satellite is sized 10cm each in length, height, and width. It is equipped with several onboard sensors including two cameras that will be used to monitor the WISA Birch plywood. One of the cameras will also be mounted to a selfie stick to allow for exterior imaging.
"The Wooden satellite with a selfie stick will surely bring goodwill and raise smiles, but essentially this is a serious science and technology endeavor," said. WISA Woodsat mission manager Jari Mäkinen of Arctic Astronautics.
Wood has been placed in a thermal vacuum chamber to keep dry when it is in space. According to the space agency, a thin layer of aluminum oxide has been applied to it to minimize vapor coming from wood and to protect it from the erosive effects of atomic oxygen. The non-wooden external parts of the satellite are corner aluminum rails which will be used for its deployment into space and a metal selfie stick.
The sensors also include a contamination monitoring tool that will measure any sensitive deposits happening on either the circuit board or the wooden body of the satellite. The satellite will orbit at around 500-600 km altitude in a polar Sun-synchronous orbit.
.
.