Moscow, October 18: Writing their name in the pages of Space History, a Russian actor and a film director has returned to Earth after shooting scenes in International Space Station for the first movie shot in space. With that Russia added another feather to its hat by beating the United State and Hollywood again in the space race.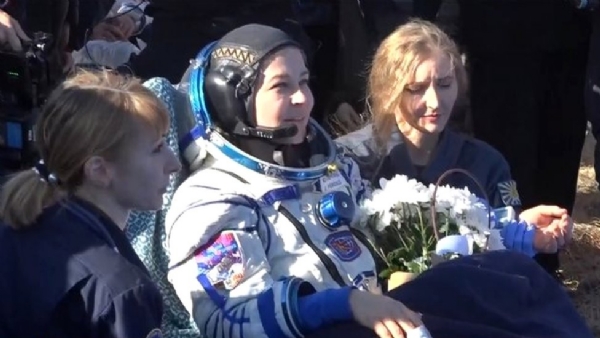 Yulia Peresild and Klim Shipenko landed as scheduled on Kazakhstan's steppe early on Sunday. They were ferried back to terra firma by cosmonaut Oleg Novitsky, who had been on the space station for the past six months. The duo spent 12 days on the station and returned with Russian International Space Station (ISS) crew member Oleg Novitskiy.
"The descent vehicle of the crewed spacecraft Soyuz MS-18 is standing upright and is secure. The crew are feeling good!" Russian space agency Roscosmos tweeted.
After landing safely in a remote area outside Zhezkazgan, Kazakhstan, the actor-director duo was sent to Russian Star City, located on the outskirts of Moscow for their post-flight recovery. They will stay there for about a week to 10 days.
The filmmakers had blasted off from the Russia-leased Baikonur Cosmodrome in ex-Soviet Kazakhstan earlier this month, traveling to the ISS with veteran cosmonaut Anton Shkaplerov to film scenes for "The Challenge". They used the orbital laboratory as one of the main sets for their movie, "The Challenge," a drama in which Peresild plays a surgeon embarking on an emergency mission to save the life of an ailing cosmonaut. Their landing also was documented by a film crew, will also feature in the movie.
It should be noted that Russia is always top in the space race. Soviets launched the first satellite Sputnik and sent into orbit the first animal, a dog named Laika, the first man, Yuri Gagarin, and the first woman, Valentina Tereshkova.
.
.